Pierre Bensusan Intuite 2002- Acoustic Music Records.
Pierre Bensusan is a world famous guitar player who mainly writes
his guitar music In DADGAD open tunings. Therefore he knows to
create a musical atmosphere , that is different than the average
fingerstyle guitarists, although now plenty guitarists play in open
tunings. But if you hear Pierre playing you forget about open tunings
and open your heart for his creative playing and you will not hear he
is playing not in standard tuning. Pierre does not focus on his tunings,
but mainly on strong melodies and perfect compositions, which are
really full of techniques and touch different styles, as jazz, folk, finger-
style, classic and alternate music. His first track on Intuite is called
Kadourimdou which has jazzy feelings and a strong melody line.
The Welsh Arrow shows his ability to play folk and Irish music.
So Long Michael is a tribute to the late Michael Hedges which name
is a standard in acoustic guitar music. You hear some minor influences
of Hedges as Bensusan does his own music with blended melodies and
melancholic settings. La Hora Espanola has Spanish influences but
has that typical Bensusan sound, with classic references in jazzy land-
scapes. Silent Partner is the last track of this album, and shows his
ability to write music without borders. Intuite is Pierre Bensusan's
first solo album an acoustic guitar and it tastes like a good French wine.
Bridge Reviews.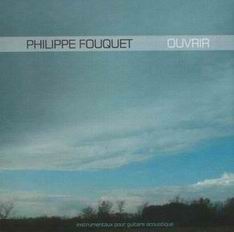 Philippe Fouquet Ouvrir Big Sky Music 2003
Philippe Fouquet is a French guitarist and he just released
his first album Ouvrir. Fouquet has his roots from music
like Marcel Dadi, John Renbourn and Pierre Bensusan.
His music sounds like poetry and he knows to touch the
listener. The first track of Ouvrir is called FenÍtre which
shows his classical techniques and Baroque playing abilities.
The Blue Dreamer is a beautiful composition with overtones
and shows his ability to create a melody and compose in well
structured melodies, this track has a typical Hedges intimate
style. Le Indicible moves you in a well balanced melody.
Triptyque is a composition with nice arpeggios in an Irish
ambiance. Prelude Hirondelle has fantastic classic influences
but Philippe just makes more than only classic music, he has a
lyrical approach. On The Morning Walk he really creates a
neoclassical sphere with typical modern fingerstyle ingredients,
he has many moods in his melodies, although the recording
is dubbed with a second guitar the result is overwhelming.
Philippe Fouquet is a really versatile guitarist, he has so many
techniques, playing styles and he knows to capture the listener
from the begin to the end of the album in passionate melodies.
Bridge Reviews.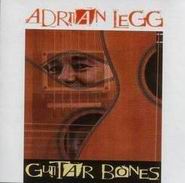 Adrian Legg Guitar Bones on Favored Nations Acoustic Label LNA5060-2
Adrian Legg has a long history as an acoustic guitar player.
Legg has had many awards for his great guitarplaying.
He made about 13 albums in about 20 years, Guitar for
Mortals was made in 1992, and Fingers and Thumbs in
1999 where his guitar playing is rather different than
on the new album Guitar Bones. Adrian Leggs influences
reach from country, jazz, folk, rock to classical music.
On Guitar Bones, he returns to his roots his fingerstyle
guitar music.It does not sound he still plays on Guitar Bones
on Ovation guitars, as the sound is much more direct and
warmer than on his earlier Ovation guitars. After his first
warming up song Uncle Adrian, Legg really impresses in a
blues and jazz session on Jam Tomorrow. La Giga Anziana
reminds one of Irish music with a nice melody line which is
very absorbing. On One Eyed Turk a very nice composition
with bottleneck techniques.Old Friends really is an outstan-
ding composition with a very intimate melody line, which
has some outstanding playing techniques. Ghost in the Hills
another great composition with nice nuances and melancholic
voices with outstanding techniques used.Adrian Legg has
succeeded on Guitar Bones to create a very versatile album
whichwill surely impress a critical fingerstyle guitar audience.
Henk te Veldhuis.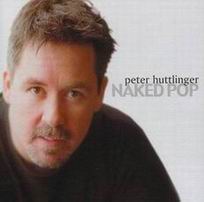 Peter Huttlinger Naked Pop- Favored Nations Acoustic FNA5010-2
Peter Huttlinger, born in Washington is now living in Nashville and
studied guitar at Berklee College of Music. He was a guitarist in John
Denvers band, but he played also as a featured artist with the San
Diego and Houston symphonies and is a favorite guest artist of the
Nashville Chamber Orchestra. He recently joined Steve Vai founded
label at Favored Nations Acoustic. Naked Pop is a breathtaking
instrumental showcase of original compositions, traditional fare and
songs made famous by the Beatles, Sting, Judy Garland, Steely Dan,
the Allman Brothers Band and Stevie Wonder. The first track on
Naked Pop is a composition of Peter Huttlinger himself, Brown
Bomber, which shows his dazzling guitar solos and great technique.
Monahadan Jig is a arranged traditional with a very nice chord and
arpeggio structure in a nice melody line. Josie an arrangement of
Donald Fagen of Steely Dan. Yet Peter makes in his own unique style
a new work of Josie, he uses very dynamic rhythmic patterns and
a staccato playing style fingerpicking patterns and so he makes a new
own creation of this song with unique technical playing capabilities.
Little Martha written by Duan Allman of the great Allman Brothers
Band is rewritten by Peter in a very attractive and percussive way.
On Over The Rainbow Peter makes a very jazzy arrangement of
this well known classic song with his percussive way of playing.
One of my favorites is Overjoyed where Peter establishes to create
an intimate sphere, with flageolets and nice chord chances. Fields
of Gold a Sting song is completely rearranged in Peter his unique
guitar style. Elanor Rigby is also a favorite of me, as Peter uses such
several guitar techniques to make this song in a very percussive way,
and divers artificial harmonics to his own masterpiece. Peter Huttlinger
has made on Naked Pop a truly new superb approach to pop and rock
songs.
Bridge Reviews.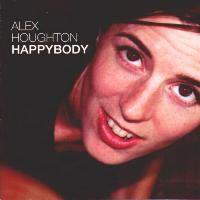 Alex Houghton is a fingerstyle guitarist\componist from Ottawa,
Canada.The compostions on Happybody are interesting for as
well people who like jazz and folk and certainly guitar lovers,
but especially music lovers in general of all genres.You hear
influences from the late Lenny Breau, Ralph Towner and also
Tomatito,Don Ross and Pierre Bensusan. On Happybody, the
opening composition Shelf Elf, has a very nice groove, caused
by the deep E bass dropped to A, and it has an inviting
dancing character.Through the whole album Alex keeps the
listener attached by attractive melody lines, combined with
great compositions which are very touching, intimate and
challenging.Dear Peace an intimate composition with orches-
tration which iscontributing to the great atmosphere on this
track, but Houghtonalways keeps the leading lady in altered
tunings. On Compression, a breathtaking trumpet solo of Kevin
Turcotte, the sphere does remind one of Chet Baker where
Alex takes you to a journey inside with very challenging guitar
playing. The Getaway song is a very groovy composition again
which mixes bass and melody line to very high standard of
guitar playing. Alex Houghton a new refreshing talent on guitar,
she seems to have no limits in hercreativity, together with her
great talent she is ready to impress any listener.
Henk te Veldhuis.
Don Ross Huron Street 2002
Don Ross is a very well-known fingerstyle guitarist from Canada.
It is probably hardly a country where Don Ross has not performed.
He played with Ed Gerhard, Dylan Fowler, and many other guitarists,
last year he played on the famous Open Strings festival in Germany.
He is always on tour and does recordings for Del Vezeau and many
other guitarists in Canada. Huron Street is Don his last album and
it is always to hear Don Ross play, he taps and slaps and is very
interactive with his listeners and audience. Huron Street contains
12 tracks, some have been earlier released on his earlier albums.
Loaded, Leather Moonroof is a typical Don Ross composition with
a very rhythmic and percussive and has a very nice melody line.
This Dragon wont sleep another percussive and melodic track.
King Street Suite and In from the Cold very well composed
ballads, where Don Ross shows many of his guitar techniques,
as rests, punctuation and balance he knows to create in his
compositions. Lucy Watusi has nice bass lines and an uplifting
melody line. Catherine a lovely ballad with a percussive structure.
Three Hands a very creative composition where Don shows all his
fine strong techniques and melody line/composition capabilities.
Huron Street is an album mainly for pure fingerstyle lovers,
Don Ross shows what talent any guitar player dreams off.
Bridge Reviews.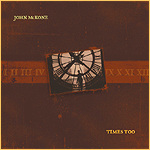 John McKone Times Too - 2003
John McKone is a very special acoustic guitarist.His first album Here it
is released in 2000 hat a lot of success.On his new album Times Too,
John really is slapping and tapping like I heard never before. His compo-
sitions are real original andhave many influences of Michael Hedges, but
I think John has more balanced melodies than Hedges. You cant compare
this to well as Hedges was a pioneer and if he still had lived who knows..
John has many disciplines, like creating and composing in classical music
as well as many other genres, his music is never dark but the melancholy
is very pleasant to listen too. My favorites are Midnight Moonless,
Too LateSecond Hand and Last Forever as the melodies are very strong
and intimate.On Five OClock John has some Spanish influences created and I guess JohnMcKone will surely impress any guitarist with his playing. So if you want areal other sound than the average guitarist John is an excellent choice.JohnMcKone swings, slaps, taps and is a most versatile guitarist I fell in love with his creativity, balance, timing and melodies, what can one wish more?
Henk te Veldhuis.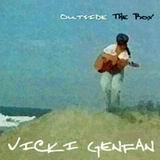 Vicki Genfan Outside the Box.
Vicki Genfan is a very versatile musician, she is not only a gifted
fingerstyle guitarist, but she is a very good composer and singer too.
Vicki has been a long time in music and has several styles she can play
and sing, from Jazz to Folk, Funk and World to Classical music. This year
Genfan was on the Open Strings Festival in Osnabrueck, Germany,
where she really got the guitar fans real crazy. The opening song, Catch
Me has some world music influences and her singing reminds one of
Joni Mitchell. Impossinova is a bit like the title says Bossa Nova music.
On New Grass she really slaps and taps like crazy, but amazing how
she creates emotions with her guitar. In a Mood her melancholic melody
lines reflect great inner visions with intimacy in her guitar technique.
She has one cover the traditional Amazing Grace which shows her strong
talent of rearranging a composition to a complete new work. Vicky knows
on this album in 10 open tunings and one standard tuning. She is merrily
a guitarist/composer than a singer who plays guitar. As talented as she
is Vicki Genfan captures a listener in strong compositions with a rich
melancholic taste, she can perform and she is busy writing a guitar book
with tapping and alternate tuning techniques. Cant wait for her next solo
guitar album, but first do enjoy her album Outside the Box.
Bridge Reviews.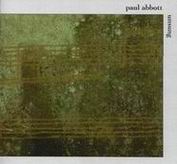 Paul Abbott Unsung Rhythmicon Records.
Paul Abbott is a fingerstyle guitarist from California.
He produced his own album and the album Enough Talk
from the San Diego acoustic guitarists. Paul Abbott really
knows to play versatile moods and techniques on Unsung.
His style reminds me of Michael Hedges, he taps a lot and
is a very creative composer. The first track of Unsung is
named after the record company Rhythmicon. The track
has a very moody atmosphere and has melancholic traces.
Any Monkey is certainly a favorite track of me with nice
rhythmic patterns. Habitat has some Celtic influences.
Chapel of the Pines is another great composition with
nice melancholic moods. Milena does remind one of the
acoustic ballads from Doug Smith or Don Ross, a fantastic
composition. Surely Paul Abbott is a top acoustic guitarist
with excellent techniques and very superb melodies.
This album has all that good music needs, music with
good timing and music which really moves you.
Henk te Veldhuis
Bridge Reviews.
Please get in touch to offer comments and join our mailing list for sales and specials!

You can e-mail us at: